Wire Materials: SUS302, 304, 316, 304L, 316L.
Characteristics: Square aperture, less rigid than plain weave, especially suitable for deforming, strong wire cloth due to ratio of wire diameter and aperture, it is mostly used for filtration less than 63 μm .
Typical Weaving Patterns: Plain weave, twill weave, dutch weave.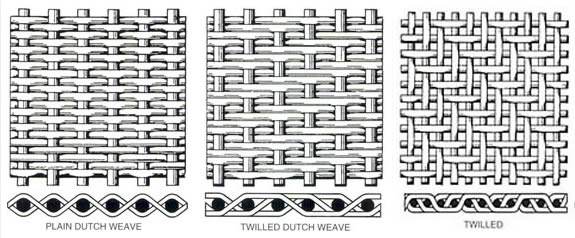 General Use: Stainless steel wire mesh, with its excellent resistance against acid, alkali, heat and corrosion, find extensive uses in processing of oils, chemicals, food, pharmaceuticals, also sorting and screening of solid, liquid and gas in mine, metallurgy, airspace, machine making, etc.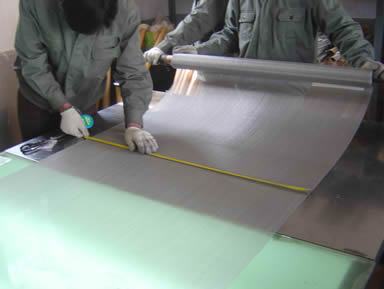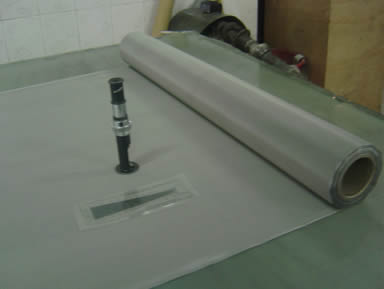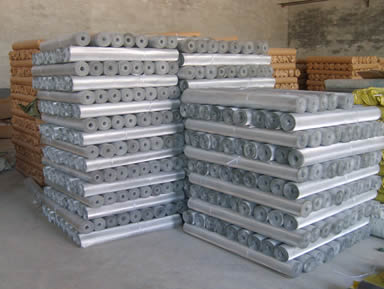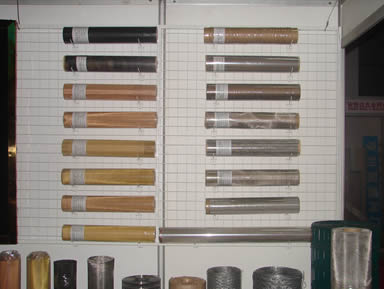 Stainless Steel Wire Mesh and Wire Cloth, Plain Weave
Mesh
Wire Dia. (MM)
Opening (MM)
Material (AISI)
7meshx7mesh
1.00
2.63
304 or316
10meshx10mesh
0.60
1.94
304 or316
12meshx12mesh
0.50
1.62
304 or316
16meshx16mesh
0.40
1.19
304 or316
16meshx16mesh
0.35
1.24
304 or316
18meshx18mesh
0.35
1.06
304 or316
20meshx20mesh
0.40
0.87
304 or316
24meshx24mesh
0.26
0.80
304 or316
30meshx30mesh
0.30
0.55
304 or316
35meshx35mesh
0.17
0.56
304 or316
40meshx40mesh
0.23
0.40
304 or316
50meshx50mesh
0.20
0.31
304 or316
60meshx60mesh
0.15
0.27
304 or316
70meshx70mesh
0.12
0.24
304 or316
80meshx80mesh
0.13
0.19
304 or316
90meshx90mesh
0.12
0.16
304 or316
100meshx100mesh
0.10
0.15
304 or316
120meshx120mesh
0.09
0.12
304 or316
150meshx150mesh
0.063
0.11
304 or316
180meshx180mesh
0.053
0.09
304 or316
200meshx200mesh
0.053
0.07
304 or316
Stainless Steel Wire Mesh and Wire Cloth, Twill Weave
Mesh
Wire Dia. (MM)
Opening (MM)
Material (AISI)
250meshx250mesh
0.040
0.063
316
300meshx300mesh
0.040
0.044
316
325meshx325mesh
0.035
0.043
316L
350meshx350mesh
0.030
0.042
316L
400meshx400mesh
0.030
0.033
316L
450meshx450mesh
0.028
0.028
316L
500meshx500mesh
0.025
0.026
316L
Stainless Steel Wire Cloth, Dutch Weave
Mesh
Wire Dia. (MM)
Material (AISI)
12mesh x 64mesh
0.58 x 0.40
304 or 316
24mesh x 110mesh
0.36 x 0.25
304 or 316
14mesh x 88mesh
0.50 x 0.33
304 or 316
30mesh x 150mesh
0.23 x 0.18
304 or 316
40mesh x 200mesh
0.18 x 0.13
304 or 316
50mesh x 250mesh
0.14 x 0.11
304 or 316
80mesh x 700mesh
0.10 x 0.08
304 or 316
165mesh x 800mesh
0.071 x 0.040
304 or 316
165mesh x 1400mesh
0.06 x 0.04
304 or 316
200mesh x 1800mesh
0.05 x 0.032
304 or 316
825mesh x 2300mesh
0.035 x 0.025
316L
400mesh x 2800mesh
0.030 x 0.02
316L